Clear Lake Campus Patient Guide Home
---
Dear Patients and Families:
Welcome to UTMB Health! Whether Galveston is your home or you are a visitor to the island, we are pleased you have selected us for your medical care. Throughout your hospital stay, we will do everything possible to make you comfortable, and our goal is to consistently exceed your expectations. If we fall short, please let us know.
If you have any questions about your care, please do not hesitate to share them with your physician or nurse. If you have any concerns regarding the quality and safety of your care, or if at any time you feel you are not being treated in a fair and compassionate manner, please call the Department of Patient Services at (409) 772-4772.
If UTMB Health cannot resolve your concerns to your satisfaction, you are encouraged to contact The Joint Commission by fax at (630) 792-5636 or by e-mail: patientsafetyreport@jointcommission.org. For more information on The Joint Commission, visit their web site at www.jointcommission.org.
We know you have choices for your health care provider, and we are honored you have chosen UTMB Health.
Sincerely,
Timothy J. Harlin, DSc, MBA, FACHE
Executive Vice President and CEO
UTMB Health System
PROVIDERS
Harlin, Timothy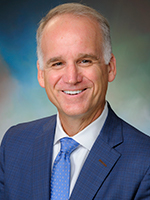 Timothy J. Harlin, DSc, MBA, FACHE
Executive Vice President & CEO,
UTMB Health System
---
Mission, Vision, Values
At the University of Texas Medical Branch, we are dedicated to a longstanding mission of improving health for the people of Texas and around the world. We are a collaborative community that works together to define the future of health care and strives to be the best in everything we do for those we serve. We uphold our core values by demonstrating compassion for all, always acting with integrity, showing respect to everyone we meet, embracing diversity to best serve a global community, and promoting excellence and innovation through lifelong learning. Our mission and values are at the heart of the care that we are honored to provide to you and your family.